The next time you're having late night cravings and find yourself at a Jack in the Box, there's a chance you're munching on burgers and fries made by robots.
The San Diego-based fast food chain is partnering with Miso Robotics, the food tech startup responsible for the burger-flipping robot known as Flippy. After recently teaming up with Panera Bread to install its CookRight Coffee system and with Chipotle on an automated tortilla chip-makerthe Pasadena-based company announced Tuesday it would be sending an upgraded version of its signature burger-flipping droid, the aptly named Flippy 2, to a Jack in the Box location in San Diego in the next several weeks.
---
Flippy first entered the market in 2017. Miso initially charged burger chain White Castle $ 60,000 to install the first machines at its locations — an arm and a leg for a bulky robot equipped with a robotic arm that could slap patties onto a grill.
Five years later, the startup's efforts to scale the technology have brought down its cost down to $ 3,000 per month. Today's Flippy 2 features a much sleeker design that takes up considerably less kitchen space. No longer content as a mere burger flipper, the upgraded Flippy has been designed to maneuver Jack in the Box's proprietary fry baskets to cook everything from taco shells to fish filets to curly fries — freeing up employees to handle customers or prep other items.
Flippy 2 cooking Jack in the Box curly fries. Courtesy of Miso Robotics
There are dozens of Flippy robotic arms currently making burgers, with the early adopters including CaliBurger and Dodgers Stadium. Earlier this year, White Castle announced it would install Flippy 2 robots at 100 locations across the country.
But unlike White Castle, Jack in the Box serves a wide variety of menu items, from tacos to chicken tenders, that require more than just a spatula to finish the job — presenting Miso with a "new challenge," Jake Brewer, the startup's chief strategy officer, told dot.LA.
"A taco shell… that's more delicate than a chicken nugget or french fry. So we were able to adapt Flippy to be able to accept those items, "Brewer said.
Once a food item is placed before Flippy, the robot's AI-enabled camera will identify the food, pick it up, cook it in the correct fry basket and safely place it into a holding area. Brewer said the company was already developing add-ons allowing the attachment of specialty baskets to the robot, but when the request came in from Jack in the Box, the process was accelerated.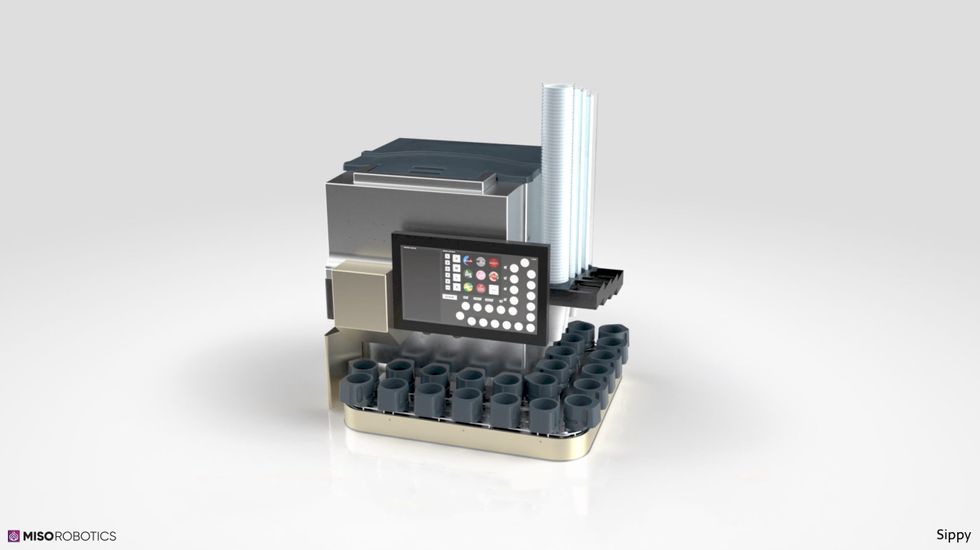 Sippy, Miso's automatic drink dispenser and sealer that will roll out at the end of the year.Courtesy of Miso Robotics
Miso is currently putting the finishing touches on Sippy, an automatic beverage dispenser and sealer that will be joining Flippy 2 at the Jack in the Box in San Diego by the end of this year. The startup is currently in the process of raising a Series E funding round, having set an initial target of $ 40 million.
From Your Site Articles
Related Articles Around the Web
.