Two minute review
This is our full review of the Garmin Forerunner 955 Solar. We've gone hands-on with the brand new watch (and its smaller sibling, the 255s) to give you a comprehensive overview of its features. We'll save you a little bit of time and say this is the best Forerunner yet. It looks good. It performs brilliantly. It tracks your metrics accurately, and it packages the information in a useful way that can strengthen your training protocol and improve your health and fitness.
Its GPS tools are excellent, with particular emphasis on cycling and running, warning users of upcoming inclines and helping them navigate through adventures off the beaten track. This is supported by Garmin's multi-band GPS abilities, which the Forerunner can access for pinpoint accuracy.
New features such as Training Readiness and Body Battery help and support recovery effectively, essential for everyone from casual park-runners to high-performance triathletes and ultra-runners. This is all supported by a battery that lasts well, supported by Power Glass solar technology, and loads of storage space for all your favorite music and routes.
In my three weeks with the watch, I honestly loved it. It's the best Forerunner, and maybe the best fitness watch, I've worn so far.
Garmin Forerunner 955 Solar: Price and release date
The Garmin Forerunner 955 is out now, with one version packing a Power Glass solar charging lens, which helps extend the Forerunner's battery life, and another version without the solar lens.
The 955 Solar is priced at $ 599.99 in the US (opens in new tab)£ 549.99 in the UK (opens in new tab) and $ 899 in Australia. The Forerunner 955 without a solar option costs $ 499.99 in the US and £ 479.99 in the UK, costing $ 799 in Australia.
Garmin Forerunner 955 Solar: Design
Design score: 5/5
The watch feels suitably hefty and rugged, and I'm not worried at all about taking it on the roughest adventures. It's also comfortable on the wrist, coming as it does with a soft silicone strap perfect for swims (the watch, as you'd expect from a product geared towards triathletes, is 5ATM water resistant). The Garmin Forerunner 955 Solar shares a lot of DNA design with many of Garmin's classic features, such as the metal casing and five-button functions.
Anyone who used a Garmin watch like the previous Forerunners, the Epix or Enduro will be familiar with the button setup: up, down and 'light' buttons on one side, and a 'confirmation' and a 'back' button on the other. With a 46.5mm screen and 260 x 260 pixels, everything is crystal clear and bright, although true HD would have been nice at this price point.
Like the higher-end Fenix ​​watches, Garmin has also added a touchscreen here. This is my first Garmin touchscreen, and I found I didn't often use the touchscreen, sticking to the buttons which are perfectly fine to navigate on their own.
There were exceptions, such as flicking through the options in my list faster, if I wanted to grab the weather or Training Readiness scores closer to the bottom, and maps to reorient myself with a thumb and forefinger. However, as is, I can't help but wonder what else they could have put in there instead of a touchscreen.
Design-wise, the watch's UX and Garmin Connect orientation follow the pre-existing Garmin model, with few meaningful changes. However, there's no need to unnecessarily reinvent the wheel. There are a few changes here: such as the daily recommended workouts changing if you've got a race coming up. Pop your race into Garmin Connect, and depending on the length of the race and the time you have, GC will recommend you daily workouts, like a training plan generated on your wrist based on previous performance. A neat trick.
Garmin Forerunner 955 Solar: Features
Features score: 4.5 / 5
The Garmin Forerunner 955 is full of just as many fitness features as the other premium Garmin watches, such as the Enduro and Epix ranges.
To start with, the GPS promises to be more accurate than ever, with multi-band offering tracking across several different satellite systems. As a result, the Forerunner 955 Solar has the power to make full use of Garmin's extensive GPS capabilities.
You can set routes with turn-by-turn directions, so you don't have to stop to think about where to turn next. Like other Garmins before it, you can set yourself distance and time targets with the accompanying Garmin Connect app. One feature we're really excited to try out is inputting a distance, and then having the Forerunner automatically calculate a circular route, guiding us through it. PacePro and ClimbPro offer on-route guidance, warning you in advance about challenging hills and elevations.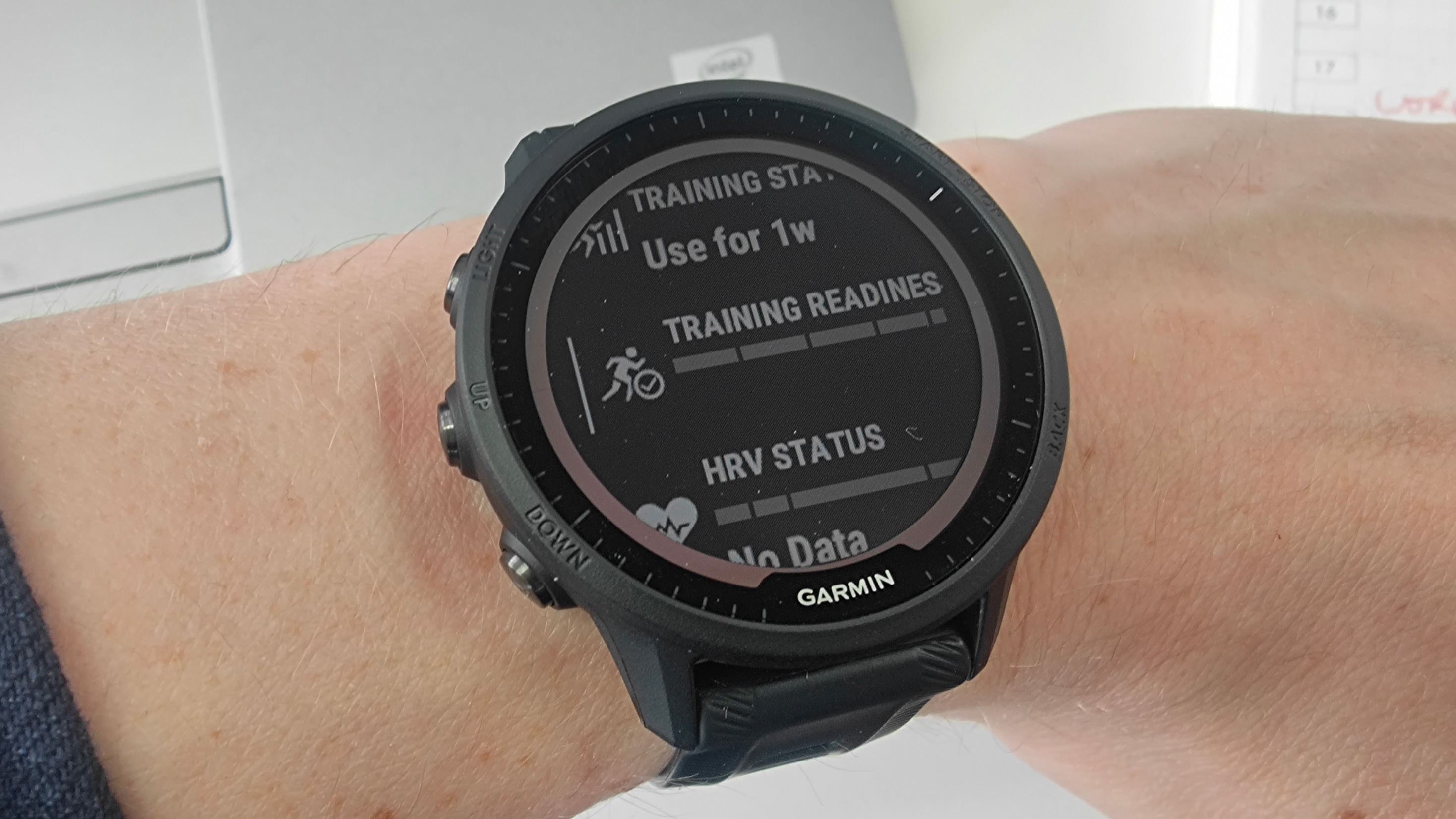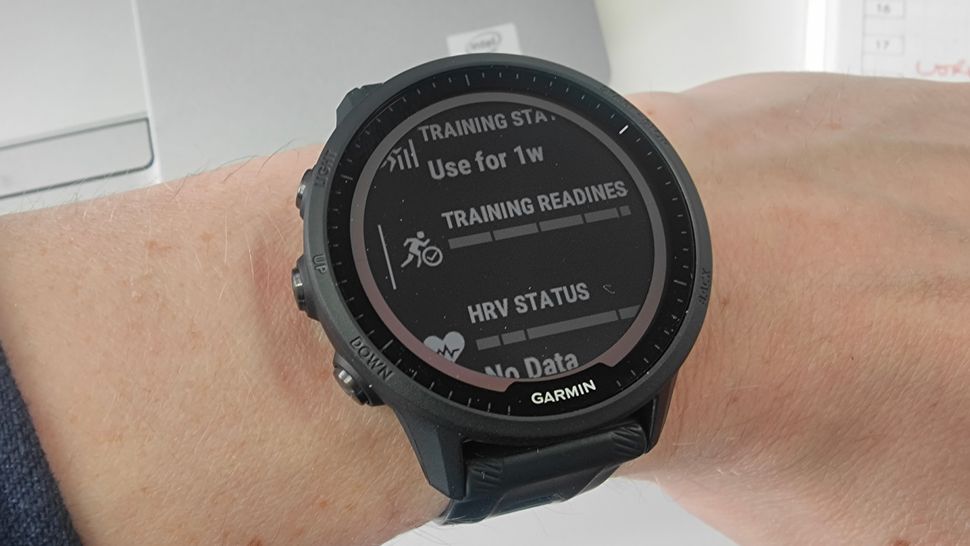 However, none of this is particularly new. What is new is some of Garmin's innovative new software features such as HRV status, which provides detailed information of how your heart rate varied while you sleep, leading to more accurate sleep tracking overall. It forms part of the Training Readiness score, a revamped feature from previous models which acts like Polar's Nightly Recharge or Fitbit's Daily Readiness score, offering you a simple colored gauge to show you how ready for hard training you are.
Both these widgets are easily accessed in Garmin's main widget menu by default, but they're also served up to you in the Morning Report, a wrist-mounted morning digest including the upcoming weather, your sleep patterns for the previous night, and your Training Readiness score. The Morning Report details the weather, your sleep quality, and your Training Readiness score. This is a neat trick to instantly bring you into your day: should you attempt that long run, or wait and do some light accessory training?
It's a useful tool and helped me, more than anything else, adapt my training around my statistics over the last few weeks. A high Training Readiness score has pushed me to complete 10-mile runs on days I was only planning to do six or seven, and stopped me from taxing my body too much when I ought to be resting. On the last day of a trail running festival in west Wales, my push notification cited a very low Training Readiness score, when I had one more run left. That notification encouraged me to take things down a notch, and my body felt all the better for it
However, on the day in which I had a terrible night's sleep, I really could have done without this reminder. I knew I had an awful night's sleep, and I didn't welcome the notification. If you find yourself getting anxious about your health data, getting push notifications with sleep updates could end up being counter-intuitive, doing more harm than good. It also doesn't tell you much about how this Training Readiness score is generated, only that it involves your HRV status, sleep quality and Body Battery scores.
If you're not in a position to alter your behavior based on the previous night's sleep, or you have a big race coming up and you're pushed to a poor Training Readiness score, it's a shortcut to feeling terrible. Nevertheless, you have the ability to disable the feature in 'settings' if you don't want the notification every morning.
Garmin Forerunner 955 Solar: Performance
Performance score: 5/5
I loved every minute of training with this watch. It was intuitive to use, having worn multiple Garmins before this, and my GPS tracking and calories burned matched up well with my phone's GPS and the details collected on the MapMyRun app on my usual 6km testing route, so I'm satisfied to the watch's accuracy with its Multi-Band GPS software. Likewise, the heart rate accuracy matched up well with my Polar Vantage V2, my standard "everyday" watch.
The TracBack feature is great, allowing you to retrace your steps back to your starting point, and although I used it on a route I knew well rather than when I was lost on the trail, I was pleased with the simplicity of it all. You only have to tap the route once you're all done on the Garmin Connect app to zoom in, with heat maps illustrating the points during which you ran slower and faster.
The training modes were great and easy to use, with daily predictions for different distances such as 5k and 10k, along with the recommended workouts, providing goals to hit, racing you against yourself. The training load featuring more prominently is also a good idea, telling you if you're currently detraining, maintaining your current load or providing a little push notification if you're overtraining. I had all of these pop up during my time with the watch.
As a runner, it allowed me to analyze my performance like never before. That's my main discipline, but if you're a cyclist and swimmer, the metrics here are equally impressive: swimming features both open water and pool functionalities with stroke count and average pool lengths in addition to time and distance.
The strength training mode was fine, counting my reps with reasonable (but occasionally glitchy) accuracy, but it remains a sore point on Garmin in general, and not necessarily the fault of the Forerunner as that's not what the device is for.
The solar charging battery was fine. It's not quite as powerful as the Garmin Enduro which had a frankly ridiculous time of 60 days, but the watch lived up to its promises of a 20-day charge with moderate use, using it on GPS mode for runs several times a week. I got sixteen days before the battery was running dangerously low, and I put it back on charge again, which took under an hour. If you loathe charging your smartwatch every few days, this is going to be one of the best multi-sport watches you can buy.
Also consider