Investment Thesis
DigitalOcean (NYSE: DOCN) differentiates itself in the cloud computing industry by targeting developers and small-medium sized businesses (SMBs). Bolstered by rapid industry expansion, accelerating growth, and strong profitability, DOCN has the potential for significant upside in the long-term. This is especially true given its relatively small market cap and current valuation.
Where does DigitalOcean fit in the Cloud?
Cloud computing has been a buzzword for the past few years within the investment community, with hundreds of cloud companies starting up or IPOing. BusinessWire estimates "the global cloud computing market size is expected to reach USD 1,251.09 billion by 2028, registering a CAGR of 19.1% over the forecast period." This tremendous growth is driven by the digital transformation, big data processing, 5G adoption, Internet of Things (IOT), and artificial intelligence. There is little doubt of the disruptive nature of the cloud computing industry. But it can be challenging for investors to separate the high-quality from the low-quality if there is a lack of knowledge. Peter Lynch simplified one of the most fundamental principles of investing: "Know what you own, and know why you own it." Before we can determine the suitability of DigitalOcean as an investment, we must understand where it fits in the Cloud.
According to Microsoft, "Cloud computing is the delivery of computing services — including servers, storage, databases, networking, software, analytics, and intelligence — over the Internet (" the Cloud ") to offer faster innovation, flexible resources, and economies of stairs. " This innovative computing approach gave way to a variety of new business models, all built on the Cloud.

The lines are often blurred, but DigitalOcean operates as both an IaaS (Infrastructure as a Service) and a PaaS (Platform as a Service). IaaS is the backbone of the Cloud, offering computing, storage, and networking resources. This cuts expenses for customers in the areas of server maintenance and hardware costs, while enabling scalability. PaaS on the other hand, is a cloud environment for the development and deployment of software applications. It often includes database management, development tools, and business intelligence. Both IaaS and PaaS saw fast adoption driven by the pandemic and are expected to grow rapidly over the next decade. It is evident that DOCN operates in one of the most disruptive industries and has the potential to benefit immensely from its expansion. But what differentiates them in such a competitive and fragmented market?
Issues with the Current Cloud Industry
With such a massive, complex industry as cloud services, issues are unavoidable. Cloud computing has wide application across almost every type of business. This makes it difficult for cloud companies to tailor their products to the specific needs of each customer. Legacy cloud providers have no choice but to focus on the customers that bring in the most revenue: global enterprises. This results in several notable drawbacks.
First, these enterprises often have large development teams across varying business domains. This forces large cloud companies to include hundreds of ancillary products to be competitive, thus increasing complexity for smaller customers. Along with this is steeper learning curves and increased difficulty in setup, especially for small businesses lacking IT teams. Second, these cloud providers tend to have more intricate and opaque pricing schemes, causing budgeting issues. Lastly, the targeting of large enterprises can result in the lack of customer service for smaller customers who need more support.
Furthermore, small and medium-sized businesses (SMBs) are expected to be the fastest growing segment of cloud adoption, specifically for IaaS and PaaS.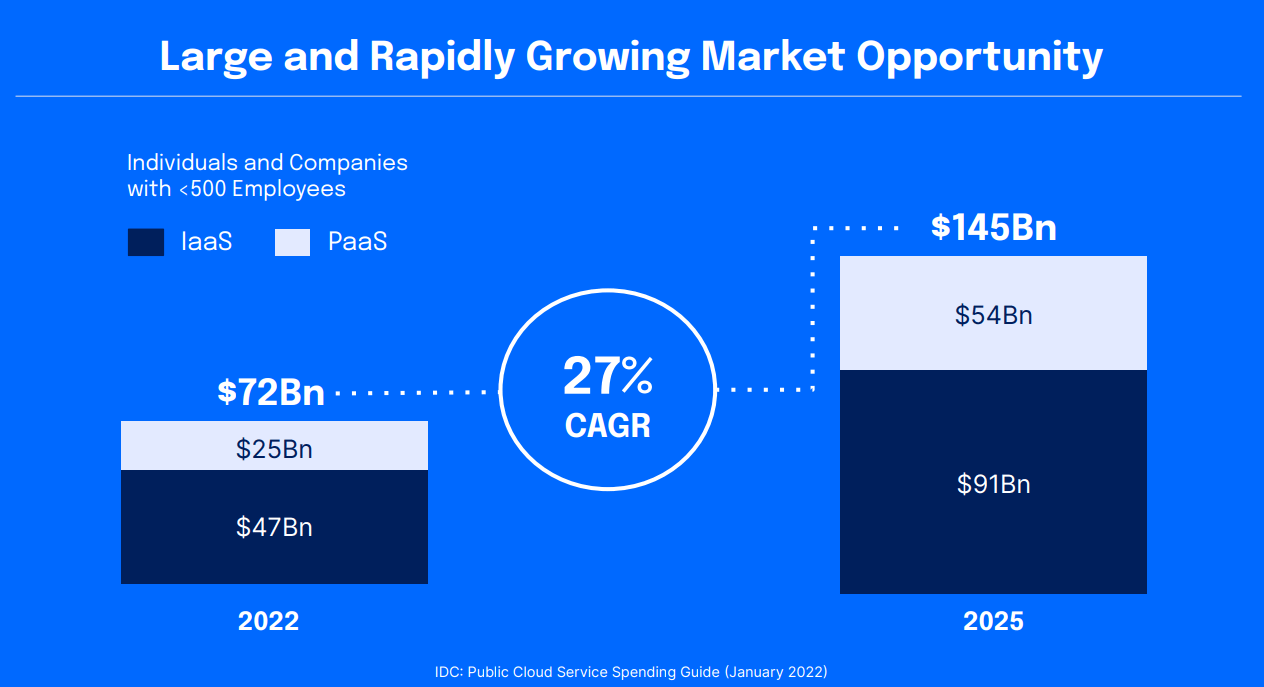 DigitalOcean completed a study of SMBs in late 2021 and had a few noteworthy findings:
52% of SMBs believe the Cloud is critical to their business success

43% have zero full-time technical staff to manage cloud solutions

50% of traditional, non-tech SMBs turned to the Cloud to overcome the business challenges of the ongoing pandemic

82% of traditional SMBs said their cloud usage has continued to increase this year

48% of respondents from traditional SMBs are not familiar with the term "cloud native"
SMBs are a massive customer segment for cloud providers comprising "90% of businesses and more than 50% of employment worldwide", according to the World Bank. DigitalOcean endeavors to capture this underserved market by tailoring it's offering to small & medium-sized businesses.
DigitalOcean's Solution
DigitalOcean's platform is designed to simplify the complexity of cloud computing for SMBs. It aims to reduce the number of steps from idea to deployment, thus enabling quicker software development. DigitalOcean's solutions are created by developers for developers, with a focus on ease of use, scalability, and speed. Being a company focused on smaller customers also allows them to provide more personal customer support. Innovation is important to sustain a competitive moat within the cloud industry. DigitalOcean has shown this initiative by continuously broadening their product offering, providing a complete software stack for developers. R&D spend has climbed as well, comprising 27% of revenues, up from 23% a year earlier.
DigitalOcean's customer retention and growth is a testament to their differentiated platform. The company's Net Dollar Retention Rate climbed from 105% to 116%. Customers tend to not only stick around but also increase usage and spend. Another metric highlighting "land and expand" success is ARPU (Average Revenue per User), which climbed 29% YoY. Additionally, the company continues to see healthy customer growth.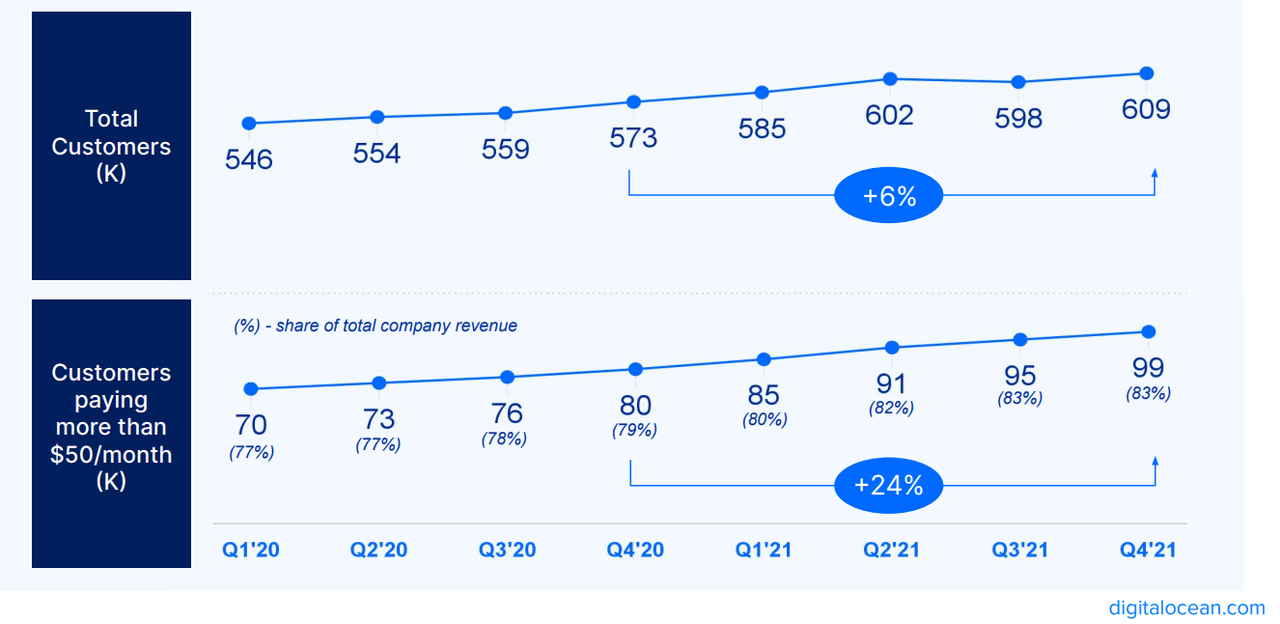 Accelerating, Responsible Growth
DigitalOcean reported its first full fiscal year performance at the end of February, putting up impressive numbers. Key performance indicators were strong and growing across all areas. Revenue growth jumped from 26% to 37% YoY, with annual recurring revenue (ARR) matching it at 37%. In addition, gross profit margin expanded from 55.9% to 62.9% and capex margin fell from 35% to 27%. As growth arises, management has made profitability a priority. Net income deficit has shrunk each quarter and EBITDA has grown.

CEO, Yancey Spruill, understands the importance of organic and responsible growth, stating:
"It's a balance, and our investors pay us to make those choices, and not be over-levered to one or the other" (growth or profit). Cash flow is another important fundamental strength for DigitalOcean. Their cash position sits at $ 1.71B, which is over 30% of the company's market cap. The company's FCF margin for FY 2021 was 6% which is a few points below the sector median of 10%. But management has guided for 8-10% next fiscal year. The Rule of 40 is a common metric used to compare software and cloud companies. It adds the firm's top-line growth to its FCF margin. Companies over 40 are said to be of superior quality, balancing growth and cash flow. DOCN sits in the mid-40s and expects to be closer to 50 next year. This is impressive given its relatively small size.
An area of ​​concern is DigitalOcean's debt level, which totals $ 1.46B. Their long-term debt-to-equity ratio is 252% and debt-to-capital ratio is 71%. Leverage increases risk, especially for smaller companies. Nevertheless, DigitalOcean's cash strength helps offset it. The Board also approved the repurchase of $ 300M of DOCN common stock, seeing the current price as "opportunistic" and aiming to reduce dilution. Share repurchases highlight leadership's confidence in the long-term outlook for the firm. DigitalOcean's combination of accelerating growth, widening margins, robust cash flow, and shareholder-friendly actions positions them well to capture cloud computing tailwinds.
Competitive Landscape and Risks
A common argument against DigitalOcean is that it competes with much larger, more established firms like Amazon (NASDAQ: AMZN)Google (NASDAQ: GOOG)and Microsoft (NASDAQ: MSFT). Some refuse to invest in wonderful companies only because they compete with these massive players, but all of these mega-enterprises were once small disruptors. When evaluating an investment decision, it is important to understand an investment's potential upside and downside. DigitalOcean sits around a $ 6B market cap currently, giving it enormous upside potential. Especially given its fundamental strength and business quality. The downside is also real. Larger competitors could outcompete DigitalOcean and impede their growth. This is the firm's biggest external risk, but I will show why it's not as significant as many investors tend to believe.
As I stated earlier, DigitalOcean separates itself by targeting a niche of developers and SMBs. They run in a different lane compared to companies like Amazon (AWS), Microsoft (Azure), and Google (Cloud) who focus on average users and large enterprises. DigitalOcean optimizes its products to meet the needs of developer teams for customers with smaller budgets. A comparison of DigitalOcean and AWS highlights this pricing advantage.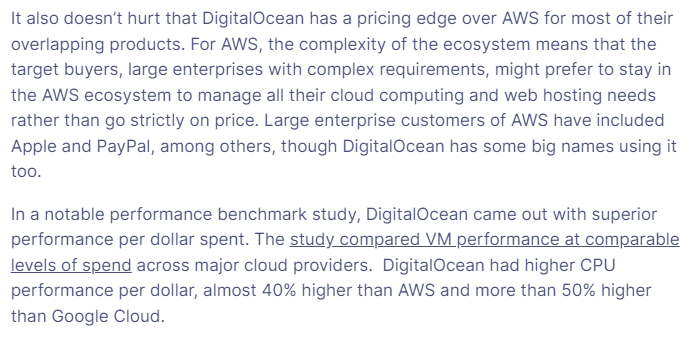 Affordability, simplicity, and support are what sets DigitalOcean apart. This gives the company competitive durability against these massive main-stream cloud providers.
Valuation and Market Risk
DigitalOcean is in the growth stage of its business cycle. The growth stage is characterized by rapidly increasing sales and profitability just starting to breakeven. This makes it more difficult to value them, especially given their smaller size and hyper-growth industry. Valuation is still important for companies with these characteristics, but long-term investors ought to prioritize business quality and fundamentals. DOCN trades at a rich EV / Revenue of 12.31 and EV / EBIDTA of 71.40. The latter has decreased greatly over the last few months, presenting an opportunity for long-term buyers.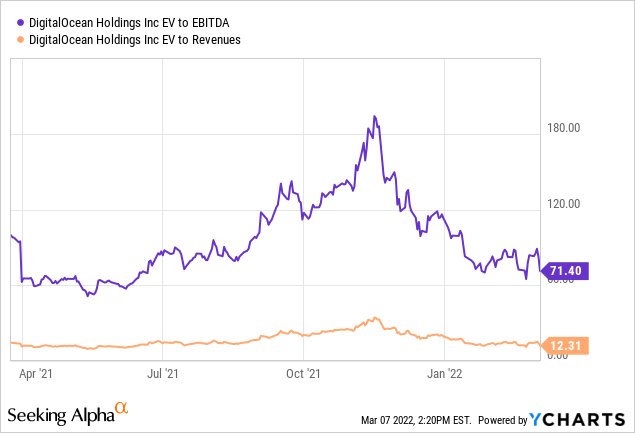 DigitalOcean is also relatively fairly valued amongst its cloud computing peers. Jamin Ball's 'Clouded Judgment' tracks cloud company metrics, including a scatterplot of NTM Revenue growth to NTM Revenue multiples. It shows DOCN has a comparatively fair current valuation.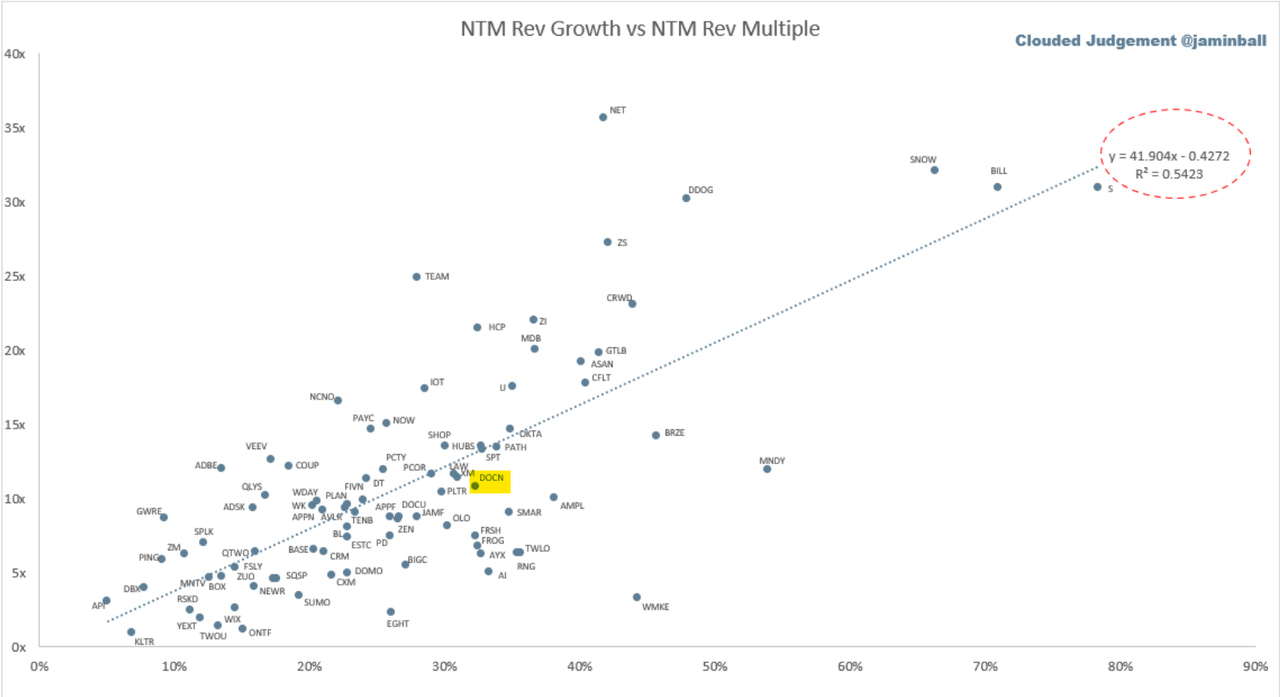 The recent correction has driven DigitalOcean's stock down over 60% from its 52 week-high, joining many other tech companies. Additionally, macroeconomic factors such as conflict in Europe, inflation, and threat of interest rate hikes increase the level of uncertainty and short-term market volatility. DOCN stock could surely continue dropping in the short-term. For long-term investors, slowly adding or dollar-cost averaging are good options as timing the bottom is difficult in turbulent markets.
Conclusion
DigitalOcean is a great long-term buy. The company operates in arguably the fastest growing industry over the next decade. They have found an underserved, massive niche in small and medium-sized businesses and are securing a leadership position in it. This differentiation also equips them with competitive resilience against legacy firms. Lastly, DigitalOcean has the qualities of a long-term compounder with accelerating growth and financial strength. DOCN's potential upside is huge given its small market cap and current valuation.