You need the best WordPress analytics plugins if you want to grow your online business, or just your digital presence. You can hook up your WordPress site to Google Analytics but you then have to make sense of all the data that's now coming your way.
Thankfully, there's a raft of plugins whose purpose is to do just that – and we've gathered five of the best ones out there. With the right plugin for your website, you can truly expand your business and pinpoint the areas that are doing well and the ones that need improvement.
We've compared these WordPress analytics plugins on many points, including the setup process, user interface, tracking features, and tutorials. We judged what types of users they'd be best suited for (beginner or professional), and have included both options in our list. We also checked if they offered free trials, the trial's duration and comprehensiveness, and the pricing model.
Also check out our roundup of the best cloud analyticsthe best WordPress gallery pluginsand the best WordPress landing page plugins.
---
The best WordPress analytics plugins of 2022 in full
Analytify is a very popular Google Analytics plugin and is quite simple to set up. You can install all its features at once and view all the data inside your WordPress dashboard, which is highly convenient. The data can be viewed for your entire site, or broken down for every page and post published. The plugin takes complex data and presents it in a simple and easy-to-understand format so that you understand your audience better.
Add-ons are available to boost the information you're getting. There's Campaigns for instance, which helps you track your stats in real time, as you see from which social media site your traffic is generated from. WooCommerce gives you enhanced Ecommerce tracking (for your WooCommerce account), even seeing when people click on "add to basket", and where your visitors have come from.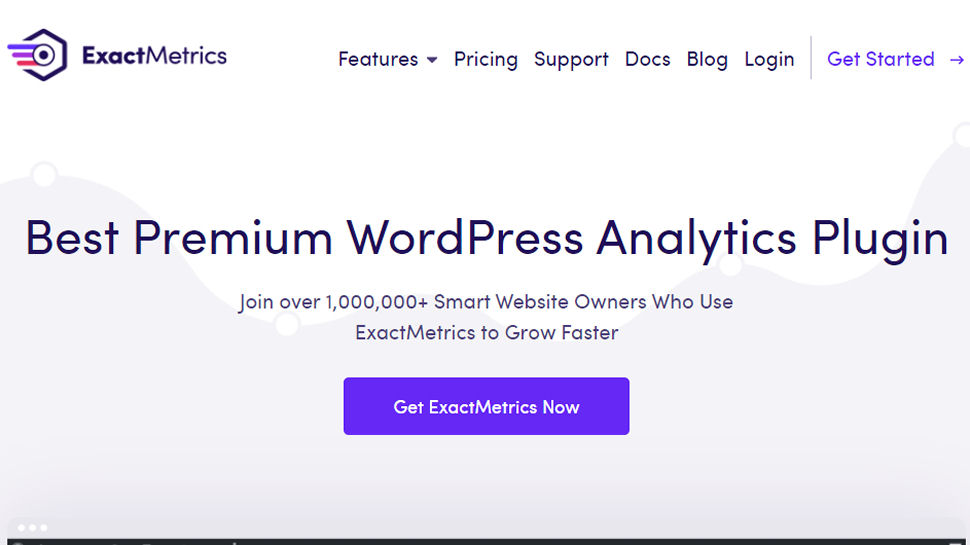 ExactMetrics are proud to say that they have a million active installs of their plugin, and it's not surprising when you see how in-depth and thorough the data is gathered for you.
As with Analytify, everything is done through your WordPress dashboard. The plugin allows you to check your website, or view individual posts or pages, including Ecommerce tracking. You can see page views, bounce rates, mobile analytics stats, traffic from social media, it's pretty much all there. All this is done through a vast series of detailed reports.
ExactMetrics can be set up in a few clicks – there's no need to depend on a developer or spend time coding. Although ExactMetrics is suitable for professionals, it can be used by beginners with zero experience because the plugin syncs easily with websites and starts providing crucial data for business growth.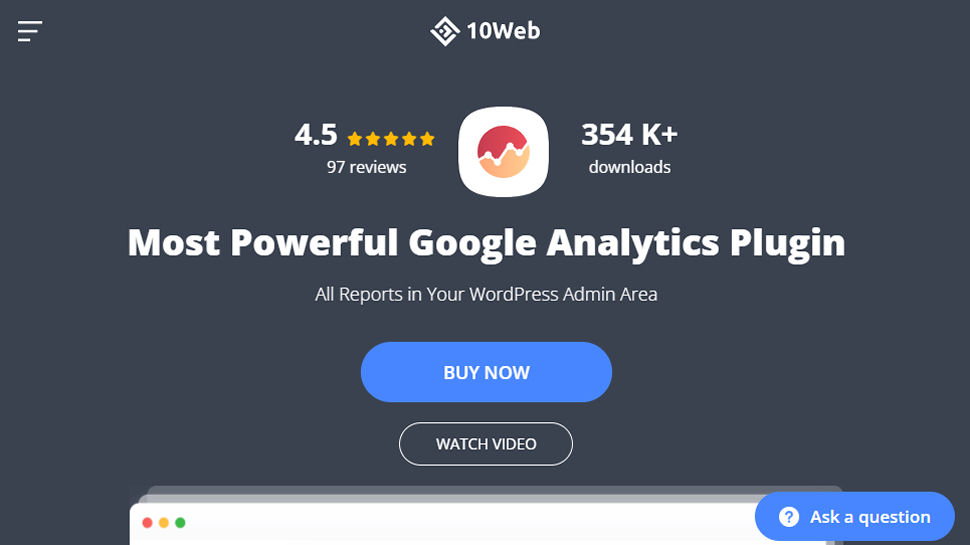 As with the other plugins, Google Analytics by 10Web will give you access to all that tracking data from your WordPress dashboard. It gives you stats on your audience and its demographics, and the reports can be displayed in line, pie and column charts, based on your preference. As with the others, you can create reports for individual pages and posts. There's also Ecommerce tracking, and Adsense and Google Ads integration.
Pricing is different than Analytify and ExactMetrics as the cost includes 10Web's bundle (you get to choose 15 premium plugins and 35 plugin extensions from their catalog for the price). Also, although you pay for six months (for Basic and Standard) or yearly (for Advanced), should you choose to stop paying, you can still use the plugins – you just won't get support, nor any updates.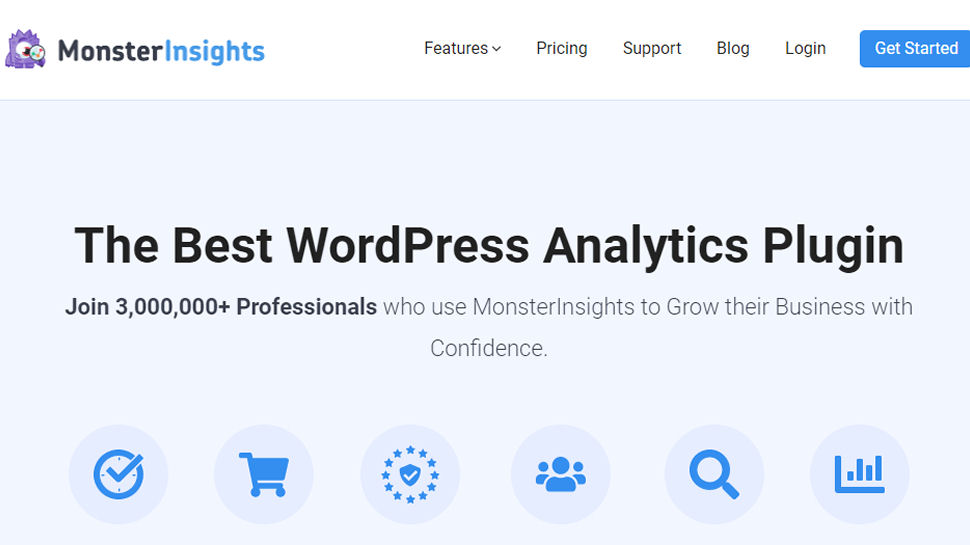 MonsterInsights is an incredibly popular analytics plugin, currently being used by over two million professionals to keep track of their websites' performance.
Everything is broken down for you to analyze your visitors, from country, gender, device, etc. You can keep tabs on affiliate links and ad tracking, get access to enhanced Ecommerce tracking, and, as with the other plugins, can get general information about your entire site, or focus on specific pages, all compliant with GDPR and other privacy regulations.
For event tracking, MonsterInsights tracks form submissions, file downloads, outbound links, and even scroll depth, among other things. The best part is that you don't have to set up any of these events, it is all tracked automatically by the plugin.
MonsterInsights is an excellent plugin for beginners with minimal to zero knowledge of Analytics.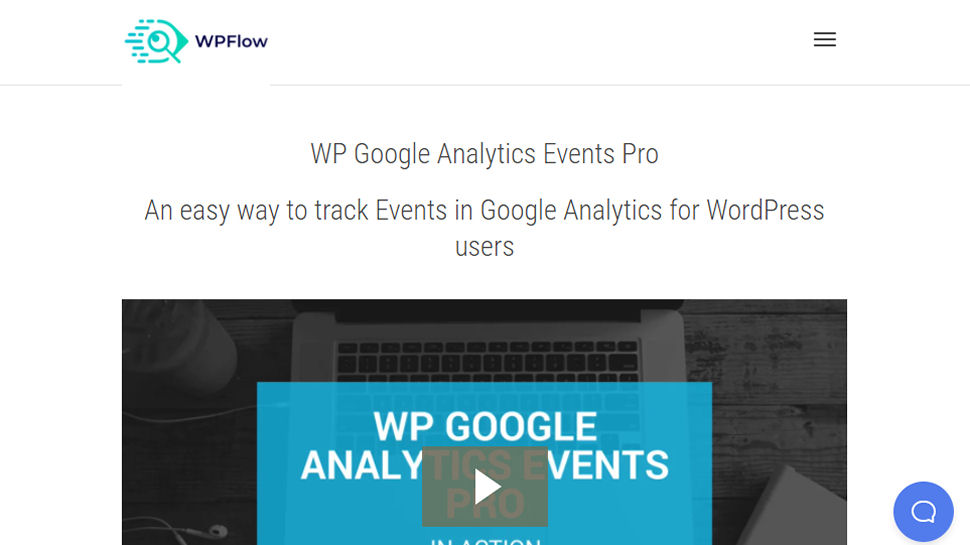 WPFlow (formerly WP Google Analytics Events) is a bit different, offering simple tracking information but isn't as comprehensive as the others on this list. It's a good plugin to see what your visitors are up to on your site in real time, what they click on and even how much they scroll through your page. One nice feature is the ability to track when they play an embedded YouTube or Vimeo video, or even when they paused it.
It's a simple form of analytics for those who aren't into the full on control the others provide. Other click events you can set up with WPFlow are images, buttons, forms, sliders, internal links, and external links. You can even integrate it with YouTube to track video clicks. WPFlow is well suited for users who have some experience with Analytics.
We've also highlighted the best WordPress plugins.
---
How to choose the best WordPress analytics plugins for you?
To choose the best WordPress analytics plugin for you, start with assessing your proficiency and experience with Google Analytics. If you're a beginner with minimal or zero experience, then you'll want to pick a plugin that's aimed at beginners and easy to set up. But if you have experience with Analytics, then a plugin aimed at professionals may serve you better. It'll also help to look out for plugins that come with sufficient documentation and easy-to-understand tutorials.
You'll then want to evaluate what tracking features you need depending on the nature of your website – internal link tracking, button tracking, form tracking, scroll tracking, etc. For beginners, a plugin that makes it easy to set up tracking events will be useful. Not to mention, it always helps to have data presented in a simple format that can be easily grasped.
Lastly, check whether the plugin has a free plan and if you have the budget for the premium version.
The best WordPress analytics plugins: How we test
We've tested the best WordPress analytics plugins across numerous points, like what type of user they'd be best suited for (beginner or professional), how simple or complex the setup is, and whether there are useful tutorials and sufficient documentation to learn more about the plugin.
We looked at their user interface and judged how simple it was to use the tool. We assessed the quality of the data presentation and what level of user it was aimed at. We evaluated the plugins' tracking features, including button tracking, form tracking, internal and external tracking, and scroll tracking.
We also considered whether the plugins had free trials, how comprehensive they were, and the pricing models, among other aspects.