Investment Thesis
Advanced Micro Devices, Inc. (AMD) is one of the rising stars in the semiconductor market, given how its revenues have jumped 68.3% YoY in FY2021 despite the global supply chain issues. Its stellar performance also shows the superiority of its products in the face of intense competition from other producers, such as Intel Corporation (INTC) and NVIDIA Corporation (NVDA). Its cloud-based products could potentially undermine INTC's current server and data center dominance, given the upcoming launch of AMD's 4th Generation EPYC cloud-optimized processors, Genoa and Bergamo.
In this article, we shall focus on AMD's data center / cloud computing-related products.
Cloud (And Gaming) Are The Future Of Semiconductor Chips
INTC has been the undisputed pioneer in the development of semiconductor chips for Data Center applications. In the past five years, the company has grown its revenues at a CAGR of 8.43%, from $ 17.23B in FY2016 to $ 25.82B in FY2021, for its Data Center Group segment. However, we have noticed an apparent decline in INTC's revenue growth in FY2021, where its Data Center Group segment reported a -1% YoY decline from $ 26.1B in FY2020 to $ 25.82B in FY2021.
In the meantime, its newer and younger competitors, such as AMD and NVDA, are gaining critical market shares in the segment. For example, in its recent earnings call, AMD reported approximately $ 4.1B for its overall data center revenue, which is mostly attributed to its EPYC server processors and Instinct data center GPUs. These products contributed "a mid-20 percent of its total revenue in FY2021," representing an estimated YoY growth of 25%. During FQ4'21, EPYC sales also more than doubled YoY, due to cloud providers increasing capacity and introducing new instances. The company's revenue from data center GPUs also doubled in FQ4'21, due to the robust demand for AMD's Instinct MI200 released in November 2021. On the other hand, NVDA's data center-related sales also reported an excellent 58.4% YoY growth from $ 6.6B in FY2021 to $ 10.6B in FY2022 (the calendar year 2021).
Its ambition in powering global cloud computing was hinted at when AMD acquired Xilinx in 2020. AMD gained a stronger position in cloud computing through Xilinx's innovative processing technological platforms. By Q4'21, AMD's chips are powering high-profile major cloud providers, such as Amazon Web Services, Inc. (AMZN), Google Cloud (GOOG), Microsoft (MSFT), Alibaba (BABA), and IBM (IBM). Atos, Dell (NYSE: DELL)Hewlett Packard Enterprise (NYSE: HPE)and Lenovo (OTCPK: LNVGY) (OTCPK: LNVGF) will also launch servers with AMD's Instinct MI200 GPUs by March 2022. Cockroach Labs' research found that AMD-powered cloud instances outperform Intel versions in 16-core performance tests, which may be the exact reason why many prefer AMD's products. According to Mercury Research, AMD had managed to capture 10.7% of the data center market, in terms of quarterly shipments as of Q4'21. It is a massive YoY improvement by 3.6 percentage points from Q4'20 to 7.1% of market share.
INTC and AMD CPU Share By Quarterly Shipments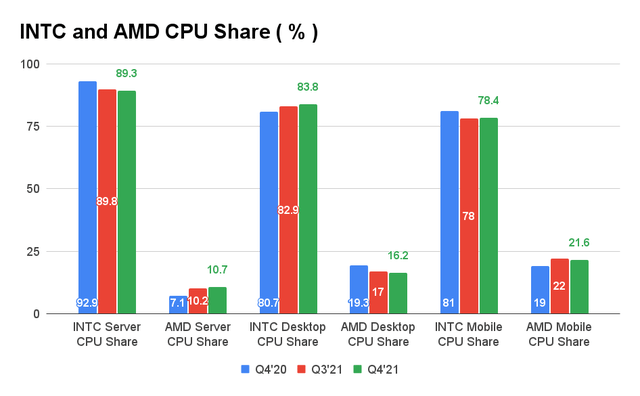 In addition, AMD is also collaborating with Meta (FB) on its "cloud-scale, single-socket server, based on AMD EPYC Milan-X CPUs" for the latter's "North Dome" systems, effectively replacing a part initially designed for INTC's Xeon D CPUs. Meta has also been on a spending spree while building its Metaverse infrastructure through multiple data centers nationwide. The company spent $ 19B in 2021, while guiding a further investment in the range of $ 29B to $ 34B in data center-related CAPEX in 2022. As a result, it is evident that the popularity of AMD's products has partly contributed to the gradual erosion of INTC's market dominance over time.
On the other hand, the cloud gaming sector is experiencing a massive boom, with Tencent's (OTCPK: TCEHY) recent launch of a custom graphics card, Xinghai Wisdom Wood Series GA01. It is based on a custom-designed AMD graphics processing unit (GPU) Radeon PRO V620 card with 32GB of GDDR6 memory. Tencent reported that the graphic card performed 120% faster than other graphics cards while delivering superior rendering, encoding / decoding, and image processing. By offering cloud-centric GPUs, AMD also stands to chip away NVDA's current dominance in the gaming sector. NVDA reported $ 12.4B of revenue for its gaming-based products in FY2022, increasing 61% YoY. As a result, we expect intense competition amongst the two as AMC enhances its GPU offerings moving forward.
The global semiconductor market is projected to grow from $ 452B in 2021 to $ 803.B in 2028 at a CAGR of 8.6%, due to sustainable demand from the gaming, automotive, PC, smartphones, etc. In 2021 alone, sales for x86 units is at 471M units for a total sum of $ 74B, representing an increase of 10.7% YoY. Assuming a similar growth trajectory to the market predictions of 8.6%, we may expect to see sustained annual sales of x86 for up to 650M units, with total revenue of up to $ 102B by 2025. With an average market share of over 23% in FY2021 (and definitely increasing by 2025), AMD would easily ship over 150M units of x86 by then. Therefore, we expect that AMD will continue to report robust revenues and gain in market share over Intel every quarter, with no sign that it will slow down, at least through 2024.
AMD's Push Into The Next Generation Data Server Products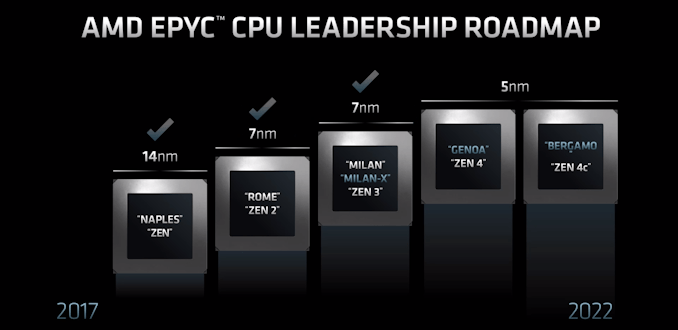 AMD will be launching its cloud-based 4th Generation EPYC processors, Genoa with up to 96 Zen 4 cores in 2022 and Bergamo with up to 128 Zen 4c cores in 2023. Through these 2 chips, AMD is transitioning from an etching process that uses 7 nanometers to one that uses 5 nanometers from Taiwan Semiconductor (NYSE: TSM). Since both are based on Zen 4 core (Bergamo – Zen 4c core), users will experience a significant improvement in Instructions Per Clock (IPC) by approximately 29% compared to the older Zen 3 core.
In addition, AMD expects Genoa to be "the world's highest performance processor for general-purpose computing … for a broad range of data center workloads from enterprise to HPC." The company also created a differentiated cloud-native chip for data centers through Bergamo. Though functionally similar, the 128 Zen 4c core chip will be able to deliver twice the transistor density and power efficiency, while increasing switching performance by 25% through a similar ISO frequency. It is likely that Bergamo will also expand both ways in the power window beyond the usual 65-280W to accommodate specific cloud use cases. As an added benefit, both chips will be socket compatible, which is an important feature to hyperscalers and cloud builders alike. It would definitely ease the future upgrade to Bergamo, given its improved performance and cloud-oriented design. This feature alone ensures the durability of AMD's future sales and product stickiness moving forward.
In addition, it is quite clear that the market will experience a massive boom in the next few years, given the enormous demand for server-related products from multiple global cloud providers and enterprises as discussed above. The data center market predicted growth from $ 230B to $ 519B by 2025, at a CAGR of 21%. Based on our aggressive estimates, we may see AMD's data center-related market share to rise from 10.7% in 2021 to 20% in 2025, with further growth in the x86 market from 25.6% in 2021 to over 35% by 2025. However, we also expect to see its growth rate decelerate over time, given the easing of the global supply chain issues from 2024 onwards.
AMD Reported Record-Breaking Revenues In FY2021
AMD Revenue and Gross Margin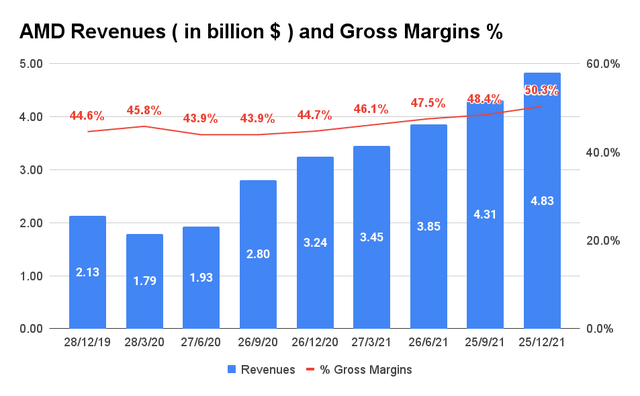 In the past three years, AMD recorded massive revenue growth at a CAGR of 56.25%. In FY2021, the company reported revenues of $ 16.43B, representing excellent increases of 68.3% YoY and 244% from FY2019 levels. In addition, the company has been gradually improving its gross margins from 42.6% in FY2019 to 48.2% in FY2021, with it reaching an impressive 50.3% in FQ4'21. These are mostly attributed to the robust sales for its high-margin products such as server GPUs and CPUs, due to a growing number of cloud and enterprise customers adopting AMD EPYC processors. This consecutively doubled AMD's YoY cloud revenue in FY2021.
In addition, AMD reported $ 4.83B of revenues and $ 0.8 of EPS in FQ4'21, beating consensus estimates of $ 4.52B and $ 0.76, respectively. It is also important to note that the company has been beating consensus estimates for the past seven quarters. With its total $ 12B share repurchase program, we expect the company to improve its EPS moving forward, with $ 3B already exercised. The share buyback will also counter some of the share dilutions from the Xilinx acquisition.
So, Is AMD Stock A Buy, Sell, or Hold?
AMD Projected Revenue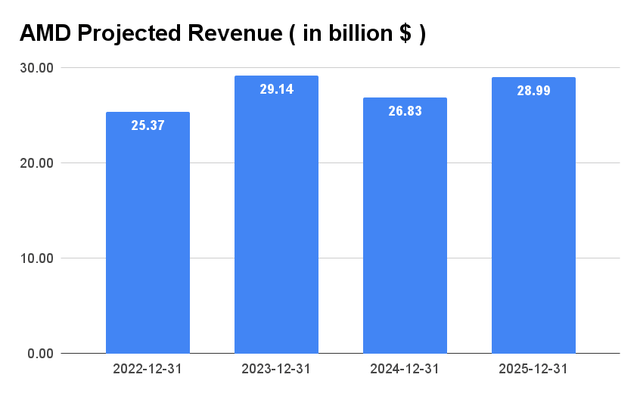 For FQ1'22, AMD guided revenues of approximately $ 5B and gross margins of 50.5%, representing a remarkable increase of 3.5% QoQ and 44.9% YoY. For FY2022, consensus estimates that the company will report revenues of $ 25.37B, representing an impressive 54.4% YoY growth. However, AMD had guided slightly lower revenues of $ 21.5B at 31% YoY growth, with gross margins at 51%.
Nonetheless, over the next four years, AMD is expected to report somewhat choppy revenue growth at a CAGR of 15.25%. Based on this chart, consensus estimates AMD's future revenue will decline slightly by -7.9% in FY2024, due to the easing of global supply chain issues, which will improve semiconductor chip supply from the current shortfall. In addition, we suspect AMD may face some competition from INTC due to its data-centric processor launches of P-Core Granite Rapids Xeon SP v6 CPU and E-Core Intel 3 'Sierra Forest' CPU in 2024. As a result, investors who add now must be aware of the potential moderation in AMD's valuation two years later.
AMD is currently trading at an EV / NTM Revenue of 7.48x, higher than its 3Y mean of 6.84x. However, its stock price has slightly moderated from its highs of $ 161.91 from November 2021 to $ 108.41 on 4th March 2022. In addition, the company's substantial revenue guidance for FY2022 makes AMD stock attractive right now, given its splendid performance in FY2021 and the robust demand for superior cloud-based chips. The dip may therefore provide a good entry point to interested investors.
As a result, we rate AMD stock as a Buy.